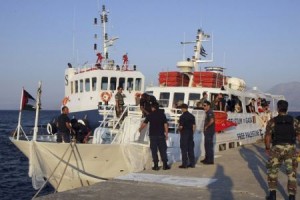 The boats, one Canadian and the other Irish, were carrying 27 pro-Palestinian activists, journalists and crew from nine countries. The military has stated that it will prevent the boats from reaching Gaza.
The Israeli navy notified the vessels that they were en route to an area under blockade and advised them to turn back, or to sail to a port in Egypt or Israel, the military said in a statement. Yigal Palmor, the Israeli Foreign Ministry spokesman, said that the boats had stopped in their tracks.
Shortly after, the Israeli military said on its official Twitter account that members of the navy would board the vessels "after all attempts to contact them failed."
The two boats set sail from a Turkish port on Wednesday, four months after the last international flotilla to Gaza was stalled by the Greek authorities who held some vessels in port. Two other vessels, including the Irish boat now headed for Gaza, were mysteriously damaged at port.
The Israeli authorities view the attempts to break the blockade as a provocation designed to embarrass Israel and undermine its security. In May 2010, Israeli commandos raided a large flotilla and fatally shot eight Turkish protesters and an American youth of Turkish descent after meeting tough resistance on the deck of a Turkish passenger vessel.
This time there was little prospect of a violent confrontation. An organizer on board the Canadian boat, Ehab Lotayef, a Canadian electrical engineer of Egyptian origin, said in a video message on Wednesday after leaving Turkey that the participants "are not going to challenge Israel physically. We are a peaceful mission that is committed to the safety of the personnel on board" the two vessels, he said.