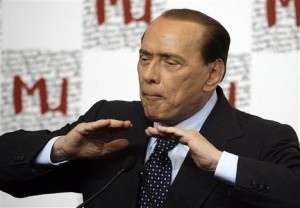 Silvio Berlusconi is to go on trial on 6 April, charged with paying an underage prostitute and then trying to cover up the alleged offence by abusing his position as Italy's prime minister. All three judges named for the trial are women.
Berlusconi heard the news while in Sicily, where he made no comment, but immediately cancelled a scheduled press conference and flew back to Rome.
As opposition MPs called for the prime minister's resignation, his justice minister, Angelino Alfano, said the judge's decision had implications for "the autonomy, sovereignty and independence of parliament". Alfano said that, by indicting Berlusconi, the judge had ignored a vote on 3 February in which the chamber of deputies voted not to agree to a search request from prosecutors investigating the prime minister on the grounds that they did not have the necessary jurisdiction.
A Milan judge, Cristina Di Censo, ruled that Berlusconi should be sent straight to trial, without committal proceedings, accepting the prosecutors' view that the usual procedures should be waived because of the "obviousness of the evidence" against him.
The prime minister risks up to three years in prison on the juvenile prostitution charge and up to 12 years on the charge of abusing his official authority, which is a crime in Italy.