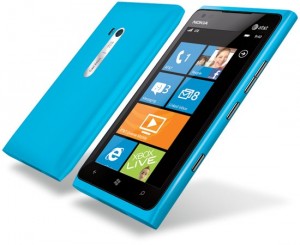 The Nokia Lumia 900 has arrived and it is making waves. The capabilities of the Nokia Lumia 900 are so smooth that it is expected to give the iPhone 4s a run for the money.
The lumia 900 has a larger screen and navigating on this phone is a breeze, with the touch-screen as sophicated as touch-screens come. It has an 8 megapixel camera that also shoots 1080p HD videos.
The phone uses Windows 7.5 as the operating system, which uniquely give users the option of accessing Windows Live accounts where you can play Xbox games live, download apps and do other cool stuff.
The Nokia Lumia 900 battery life is impressive with a feature called the battery saver, which switches-off background applications that the phone is engaged in. This allows the battery to last longer because many smartphones users complain of short battery life. How great an impact the Nokia Lumia 900 makes remain to be seen.