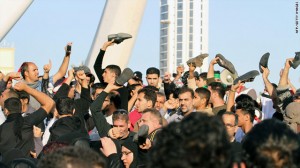 The incident, in which at least five civilians were killed and many more seriously injured, was certain to sharply raise longstanding political tensions in the tiny, strategically located Gulf kingdom, which is home to the US Navy's Fifth Fleet and adjoins oil colossus, Saudi Arabia.
The US Secretary of State, (CLinton) has shown "deep concerns" with the deadly attack on number of sleeping anti-government protestors carried out by Bahrain's security units at a central square in the capital, Manama, this week.
The attack was likely to escalate the demands of the opposition – Analysts said, – a coalition of liberal Sunnis and leaders of the majority Shia population – for a major overhaul of the monarchy headed by King Hamad bin Isa al- Khalifa.