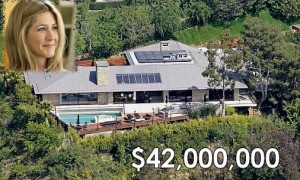 Jennifer Aniston bought her Beverly Hills house in November 2006 a year after or so after her divorce from Brad Pitt. She has spent the last two years, and millions of dollars, remodeling the house from the ground up.
Now it is up for sale for $42 million dollars
Aniston bought the home, which she calls "Ohana" in reference to the Hawaiian idea of extended family, for $13.5 million in 2006. The original structure was torn apart and the remodel was finished just before Aniston's 40th birthday in 2009.
The structure was originally built on a hillside in 1970 and Architectural Digest did a spread featuring Aniston's single-level home. In the accompanying article, the actress said that the building "vibrates with the love that created it."