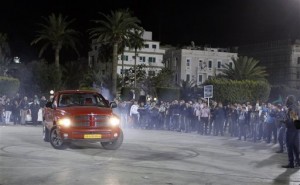 After three days of anti-government protests in Libya a New York-based human rights organization, in their last report, belives that 84 people have been killed .
Libyan security forces have been batleing an escalated crackdown on the anti-government protests concentrated in the impoverished east of the country.
Human Rights Watch based its estimate on interviews with hospital staff and witnesses in their statement late Friday,
according to witnesses and medical officials police have responded to the protests with live ammunition, protesters are demanding for the Moammar Gaddhafi to step down, the ruler for the last 42 years.