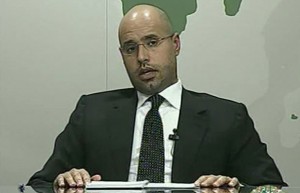 TRIPOLI -Son of Libyan leader Moamer Gadhafi' has told Monday that Libya faces a civil war if street protesters refuse to accept new reform offers, in a speech broadcast while gunfire could be heard out in the capital.
Saif al-Islam Gadhafi urged citizens to build a "new Libya" and has condemned the unheard uprising against his Gadafi's 41-year rule as a foreign plot, and has admitted mistakes have been made in a brutal crackdown
"Libya is at a crossroads. If we do not agree today on reforms, we will not be mourning 84 people, but thousands of deaths, and rivers of blood will run through Libya," he said.
Gadhafi's son gave a lower toll than the US and rights watchdogs who said that number of people are feared killed in an offensive to crush the uprising carried out by the army, reportedly backed by foreign supporters