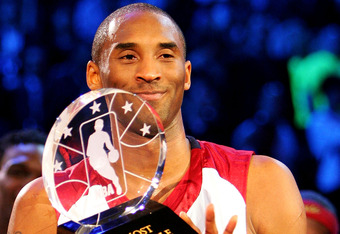 In this great game Kobe Bryant won his fourth All-Star MVP award, adding 37 points and moving the Western Conference past the East, 148-143.
All-Star vitory is nothing new to Bryant, who has creating news headlines at the event since playing in the 1998 game (being only 19 years old) becoming the youngest All-Star ever, .
He has joined in 13 All-Star Games, winning the MVP award previously in 2009, 2007 and 2002. Two years ago, he shared it with Shaquille O'Neal, but the trophy was all his this time
The game was interesting, West was leading 17 points at one time, it it has ended a very busy weekend filled with mistery (Blake Griffin's dunk over a parked car), dilema (the Carmelo Anthony trade-rumor saga) and a some upset (Miami's James Jones winning the three-point contest against Celtics All-Stars Paul Pierce and Ray Allen).
Lakers fans were appreciative that Koby gave them a chance to remember a day in a season where the Lakers have struggled to hang with the NBA's elite…