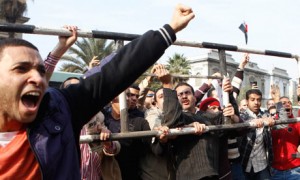 Momentum kept up on the 16th day of protests in Egypt as massive crowds once again jammed Cairo's Tahrir Square Wednesday and spilled over into a nearby compound housing government buildings.
Fueled by anger at the regime's incremental concessions and a denunciation of demands for President Hosni Mubarak's immediate exit, the rowdy demonstrations again drew thousands, many even from other cities and towns. The government sought again to portray a picture of chaos if Mubarak stepped down right away.
Egyptian Foreign Minister Ahmed Aboul Gheit told "PBS NewsHour" Wednesday that the military would be forced to intervene in a political vacuum.