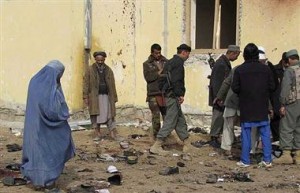 Police said on Monday, an unexpected suicide bomber blew himself up at the entrance to an Afghan government office, killing at least 30 people, most of them were waiting in line to get government id cards, .
District Police chief Abdul QayumEbrahimi said that the attack occurred around noon local time in Imam Sahib district of Kunduz province in northern Afghanistan where there has been a sharp slide in security in recent months, said .
At least 40 people were wounded in the blast, he said.