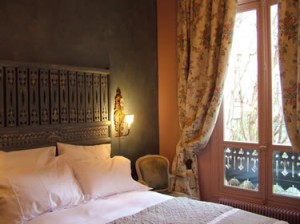 A Room in Paris
A B&B with gourmet appeal
Of the approximately 500 registered chambres d'hôtes (bed-and-breakfasts) in Paris, the majority are run by empty nesters looking to make the most of a spare room without committing to a life of full-time service. Peet Verrest is not one of those people. At his recently expanded, five-room B&B, simply called A Room in Paris, Verrest takes his job seriously.
So seriously, in fact, that he put his hospitality to the test last summer in a competitive dinner-party-hosting reality-TV show, Un Dîner Presque Parfait (An Almost Perfect Dinner). "I considered it a kind of French exam," the Dutch-born Verrest explains. Given that he went home the winner, we'll say he passed.
All that effort works out very well for guests: Each morning, Verrest lays out a spread made up of meats and cheeses, his own bread and preserves (rhubarb, apricot, plum), and homemade treats like a clafoutis de Limoges tart. The meal is served at a communal table set with mismatched plates in the living room, which is decorated with oil paintings by contemporary artists.
The B&B's location, a two-minute walk from the Gare du Nord, has its ups and downs: While it's the first stop on the express train from the Charles de Gaulle airport, it's also a 20-minute bus or 10-minute Métro ride from top attractions (Notre-Dame, the Louvre). But the slightly out-of-the-way location buys plenty of luxuries — 11-foot ceilings with ornamental moldings dating to the late 1800s, original herringbone-wood floors, and rooms as large as 300 square feet.