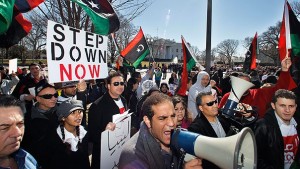 More than 1,000 people have been killed in fights in recent days, and everybody is calling for an immediate resolution to the problems.
Gunfire could be heard during the night in Libya's capital, tension heading into the morning air Saturday as a Moammar Gadhafi tries to preserve his fourty years of power.
It seems that capital, Tripoli is still under Gadhafi's control, but at the same time many other parts of the Libya, despite a bloody fights, have slipped from his leadership
International pressure on Gadhafi has increased at the same time as the protesters got momentum. A UN Security Council panel prepared to meet Saturday to decicde on sanctions on the Libyan leader.
Over 200 Arab organizations and a and over 30 famous intellectuals from all over the Middle East and North Africa urged world, including the Security Council, the European Union and the African Union, to take stop and to limit further humanitarian consequences.