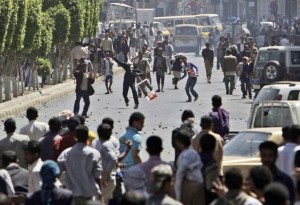 In last few weeks, Yemen has seen daily protests, inspired by similar movements in Egypt and Tunisia. Saleh, a key ally in the U.S. campaign against the al-Qaeda , has promised to step down after national elections in 2013, but protestors are not willing to wait; they want him to step down immediately.
According to security officials big crowds were spoted on Saturday in Yemen's biggest cities, including about 80,000 in Sanaa the capital of Yemen, about 150,000 in the town of Taiz and approximatly 30,000 in Aden.
Goverment forces opened fire on demonstrators in the city of Aden, on Friday, killing at least four and wounding more than 40, reports by security and medical officials. The London-based Amnesty International said they got reports that at least 11 protesters were killed on Friday in Yemen, and that security troops prevented residents from taking some of the injured to hospitals.