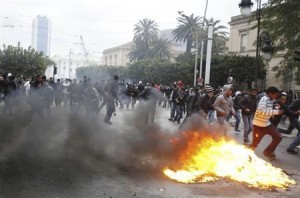 It has been reported on Saturday that in fights between Tunisian security troops and youths rioting in central Tunis 3 people were killed. About 12 had been wounded in the fights, which occurred after a riot organized by loyalists of ousted President Zine al-Abidine Ben Ali. It was said that about 100 people had been arrested.
The clash evolved after a large protest late Friday against the proposed of the post-Ben Ali interim government. During that, goverment forces have shot in the air to scare protesters who threw rocks and burned tyres .
All of the against the interim government, which has promised to hold elections by mid-July, said that it is almost the same to the old regime and has failed to provide appropriate security in a terms of requested change.
It is interesting to mention that Tunisia's revolution sparked a similar revolt in Egypt and inspired protests around the Arab world, including in neighboring Libya