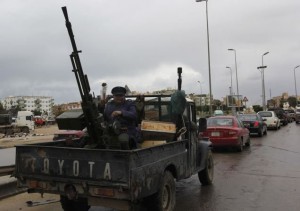 Opposition troops are almost at the doorstep of Libya's capital Tripoli hopping to acheive goal of forming an alternative government by Sunday emerged in Benghazi, the uprising's stronghold to the east.
At the same time forces loyal to Libyan colonel Muammar Gadhafi, keep to maintaining their hold over Tripoli, creating heavy casualties.
Journalists who are in Tripoli have been shown fewer people in hospitals and are quoting doctors in Tripoli as saying the dead and the injured are being taken away from hospitals, and moved in cars by state-sponsored agents, so that a lower number casualty can be presented.
Meanwhile, Libya's protests are generating a refugee crisis inside Tunisia. The U.N. refugee agency (UNHCR) said on Sunday that "close to 100,000 people", mainly foreign migrants, have left Libya to countries neighbouring Libya during the past week