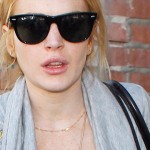 Los Angeles (CNN) — Prosecutors formally charged Lindsay Lohan on Wednesday with felony grand theft related to a necklace allegedly taken from a California jewelry store last month.
Lohan has arrived at the Airport Courthouse in Los Angeles for a 1:30 p.m. arraignment. Wearing a white dress, she pulled up in a black SUV and walked through a line of reporters and photographers to the courtroom.
The charge comes five weeks after the actress was released from court-ordered drug rehabilitation and less than three weeks before a judge said he might free her from supervised probation from a 2007 drunken driving conviction.
The 24-year-old actress "allegedly walked out of the store with the necklace on January 22," a statement from the district attorney's office said. "The owner reported the theft to the Los Angeles Police Department, which investigated the allegation and presented evidence to the D.A.'s office last week