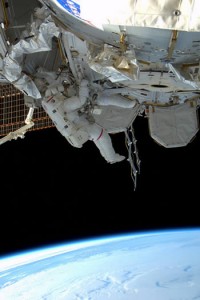 A couple of spacewalking astronauts have been working outside the International Space Station and they were able to complete their mission's first spacewalk today (Feb. 28) despite a some problems where the orbiting lab's robotic armhad was shut down .
Astronauts Steven Bowen and Alvin Drew from Discovery shuttle, were outside the space station managing to work with a huge ammonia pump – a refrigerator-size piece of the station's cooling system – when the robotic arm went offline. Bowen, stuck holding the ammonia pump at the end of the 57-foot (17-meter) robotic arm, simply had to wait it out.
He didn't have to wait for a long time as the crewmates inside the station started up a backup system
Besides the shutdown of the robotics control , the first spacewalk of Discovery's STS-133 mission went without any other big problems. A next spacewalk is set for Wednesday (March 2).
With the total of 6 hours and 34 minutes of orbital work today's spacewalk ended at 5:20 p.m. EST (2220 GMT)