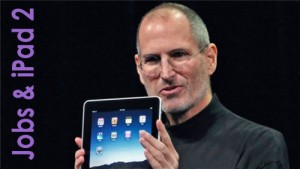 Revealed on Wednesday March 02: New generation of tablets: new iPad 2. Beautiful thinner, lighter design, features The dual-core A5 chip, 2 cameras for FaceTime and HD video recording, powered by same 10-hour battery life. First impression is that new iPad 2 is even more stuning.
Compared to the original iPad, generation 2 is 33% tinner, and 15 % lighter, so surfing news, checking e-mails, "facebooking", reading will be much easier, and simpler.
Inside the new iPad 2 there are powerful cores in one A5 chip (two of them), translatedinto normal terms: iPad can do twice the work at once. Difference will be noticed as soon as somebody surfs the web, watch movies, or makes FaceTime video calls.
Two cameras are part of the new iPad 2: The front camera puts user with in conection with a friend, face-to-face. If Switched to the back camera during the video call, it will share where user is, who is with him/her, or what's going on around him/her.
According to Apple, new iPad 2 could be seen on shelves as early as March 11.
Price???
It will be CHEAPER….