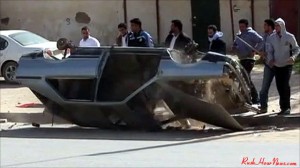 For the last 24 hours there was increased number of fights andviolence across Libya.
Gaddafi followers have started an new batle for Zawiya, they are trying to retake the town from rebel forces.
It has been reported that there are heavy casualties, with one witnesss report of up to 50 dead people.
Libyan anti Gadhafi forces have been locked in violent battles with pro-Gaddafi military on two sides.
Just 50km (30 miles) west of Tripoli, Rebel-held Zawiya, was the focus of a angry government attack. Both sides later claimed to be in charge.
Witnesses have reported serious fatalities there and in other major cities, including the eastern port of Ras Lanuf.
A number of people were also wounded and hurt in what it appears that accidental blows at an weapons dump in rebel-held Benghazi.
In Libya's second-largest city, hospital sources, said they alleged the two explosions were not initiated by an air strike.
News said at least 17 people had died in the blasts.
Earlier in the day, fights erupted, for a short time, after Friday prayers in the capital, Tripoli, but protesters scattered after sacurity troops fired tear gas and baton rounds.