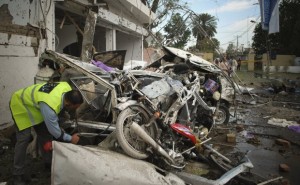 A car bomb was detonated in Pakistan's 3rd largest city on Tuesday evening, murdering 20 and injuring over 100 innocent people simply because they were in the area. The attack was said to have targeted the main intelligence agency.
The Punjabi blast has underscored the Taliban and al-Qaida reach in the US-allied country. The rebels are based outside of the region but through networks have managed to infiltrate this area and get extremists to compromise security forces as well. As a result they have been able to strike this area more frequently over the past three years without any type of suppression.
The bomb blast completely devastated a nearby gas station and a state airline office that was also in this industrial city. The actual target of the blast has gone un-damaged, said the Pakistani security officials and they were talking of the dead and injured.