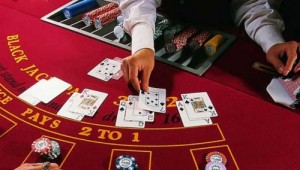 Stage shows are back and in full force in Atlantic City, N.J. the stage is set for the sumptuous and sexy 6 show girls set, with their tiny black sequined bras, all lined up in a rocket style stage kick-line. One of the show girls began singing "Bye Bye Blackbird" these are stage girls, does anyone care what they sing?
Moonshine follies, is what the show is called and believe it or not this was all happening in Atlantic City and not Las Vegas. These shows all but died in the early 1990's in Atlantic City. The casino executives have been thinking of ways to bring the stage shows back to the second largest gambling resort in the US, and they have found it. Stage shows are an excellent marketing tool and a less expensive option for entertainment than hiring top-name entertainers.
Most people that come to Atlantic City only have so much time to enjoy the city and live shows. And with stage shows the show can go on all night every night. The cost is low and the billing is high so for the Atlantic City Casino's the stage is set.