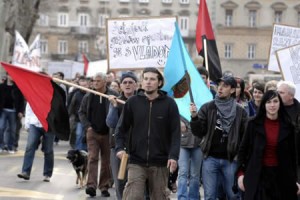 A few hundred people marched all through Zagreb's roads during the ninth anti-government demonstration that took place on Thursday
As opposed to several other protests at this point, this one decided not to feature any messages. The coordinator of the very first so-called Facebook protest, Ivan Pernar, mentioned he identified in people's critique of his leadership that others decided not to need leaders however , relatively possess the protest grow spontaneously.
In their walk through the town, several hundred protesters asked for the resignation of the Croatian PM Jadranka Kosor. They also named the 2 leading Croatian parties, Croatian Democratic Union (HDZ) and Social Democratic Party (SDP) "thieves." Protesters showed help and support to the Croatian National Bank as well as governor, Zeljko Rohatinski.
The very first time additionally they criticized the Catholic church, gathering in the front of Zagreb Cathedral.
New demonstrations scheduled for March 19 2011