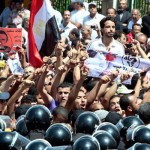 A senior Egyptian army commander has told anti-government demonstrators that all their demands will be met, The Associated Press reports.
The news agency said Egyptian military officials say the army will issue a release shortly that will meet protesters' demands.
Earlier Thursday, Egyptian Prime Minister Ahmed Shafiq told BBC Arabic that the possibility of President Hosni Mubarak stepping down is being discussed.
The news comes as strikes and demonstrations spread across Egypt, with thousands of workers staging protests and labour disruptions as anti-government demonstrations continue.
Doctors in white lab coats and lawyers in black robes streamed into Cairo's Tahrir Square on Thursday as strikes across the country gave powerful momentum to Egypt's wave of anti-government unrest.
Bus drivers and public transport workers announced their own strike Thursday, raising fears of paralysis in the capital, where many rely on buses and minibuses. Buses were still seen on the streets in the morning and it was not immediately clear how widespread the strike is.
CBC's Margaret Evans said trains weren't running in at least one of Cairo's main railway stations.
"There are dozens, if not hundreds of men, sitting on the railway tracks stopping the trains from going," Evans said, noting that police confirmed there was a strike under way.
"It is a sign of the industrial action that is spreading around the country," she said.
The labour strikes come despite a warning by Vice-President Omar Suleiman that calls for civil disobedience are "very dangerous for society and we can't put up with this at all."
Impoverished Egyptians are heavily dependent on public transportation and the strikes create another threat to the hard-hit economy.
Ali Fatouh, a bus driver in Cairo, said buses were locked in the garages and won't be moved "until we achieve our demands," which include salary increases. He said organizers are calling on all 62,000 transportation employees to participate.