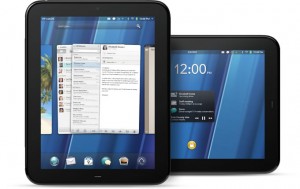 HP announced the TouchPad tablet, as well as the Pre3 and Veer smart phones. They are the first Palm smart phones since the Pre and Pixi in 2009, which scored with critics but failed to secure enough market share in a hotly competitive category dominated by devices such as the iPhone, BlackBerry and Droid.
The TouchPad is expected to ship sometime this summer; no price was given. The device weighs about 1.6 pounds and offers video-conferencing and multitasking abilities. It uses a new dual-core Snapdragon processor from Qualcomm Inc. and has a screen measuring 9.7 inches.
HP also introduced two new smart phone devices. The Pre3 updates the line of Pre smart phones, while the Veer is a smaller form factor. Both use a slide-out keyboard as well as a Snapdragon processor.
One new feature available is called Touch-to-Share, in which the phone can touch the tablet and share information back and forth.