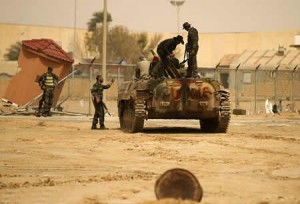 Libyan anti-Gaddafi troops already have fought back up against Muammar Gaddafi's troopers near the eastern city of Ajdabiyah, hampering their particular move in the direction of rebel major station Benghazi.
Government army captured Ajdabiyah, 150 km to the south of Benghazi within the Gulf of Sirte, on Tuesday immediately after most of its protester defenders retreated from a quite heavy artillery barrage.
One protesters specialist stated on Wednesday the town ended up being lost and also the fighters which remained had given over their own weapons. However some surprisingly refused to resign yourself or flee.
By Wednesday evening, residents claimed the protesters retained the centre of community while forces loyal to Gaddafi were primarily on its eastern outskirts.
Jibril al-Huweidi, a doctor at Benghazi's al-Jalaa Medical center, said he heard from ambulance delivery staff coming in from Ajdabiyah then they can move back and forth with little difficulty.
"Only the eastern piece of Ajdabiyahis controlled by Gaddafi's troops," he said.
"Right now there are a handful of army tanks presently there of which occasionally shoot on the community. However Ajdabiyah's town centre as well as other access items tend to be peaceful without a single man from Gaddafi's force wanders around."