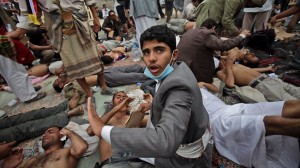 Yemen plunged further more into uncertainty on Friday when Ali Abdullah Saleh, leader, declared that a state of emergency right after many protesters ended up killed dead during an anti-government protest inside the capital, Sana'a.
The region may have witnessed increasingly severe protests calling for the ending of Mr Saleh's 32-year leadership ever since the downfall of Hosni Mubarak, Egyptian president, in February.
Obama, US president, condemned the violence, and even called for the sides to enter into "an clear as well as transparent process that deals with the proven problems among the Yemeni people".
Washington have been encouraging Yemen's opponent parties to enter into talk along with the president, whose package earlier this month to help devolve influence to parliament had been welcomed together with scepticism.
Even so, Yassin Said Noman, the leader of Yemen's protesters associated with resistance parties, revealed that Friday's violence found negotiation hopeless.
By late afternoon the shooting appeared to have finished, despite the fact that plainclothed men with Kalashnikovs, presumed to become followers belonging to the regime, have been seen across the protest site.
Countless fear Friday's incidents might trigger a powerful escalation of assault, specifically given the escalating presence of tribesmen at protests, supported by predominantly equipped clans.