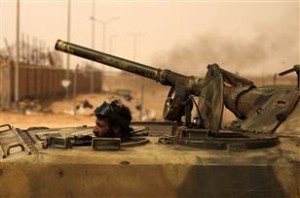 Anti-airplane fire have erupted across the Libyan capital, Tripoli, after a day of serious combating among pro-democracy fighters and supporters dedicated to leader Muammar Gaddafi.
Anti-aircraft crews began shooting soon after nightfall in the city on Tuesday, four nights after an international armed forces coalition launched an operation impose a no-fly area over the state.
"We've been hearing big disturbances. We've heard several explosions in the last ten minutes," Al Jazeera's Anita McNaught, reporting from Tripoli, stated.
"We haven't noticed any smoke on the horizon. People are firing weapons for defiance. We have been on the loyalist heartland right here where people are utterly rebellious of the international effort to make Gaddafi to give up, as they would see it.
"The anti-aircraft open fire has not been as strong [as Monday evening when a couple of naval installations outside the town were hit]. Perhaps they feel in the quick neighbourhood that many of the considerable goals have already been hit."
The AFP news organisation noted that at least two blasts had been observed well away prior to the capital's air defences popped shoots.
Several robust detonations followed, said the journalists who were struggling to establish the location of the blasts.
They claimed anti-aircraft shoots streaked into the night sky for approximately 10 minutes, especially in the region near Gaddafi's home, some distance from the lodge where the worldwide press corps is located.
In the last night's missions, the coalition air campaign experienced its first losses together with the crash and burn of a US warplane jet aircraft in the rebel-held east.