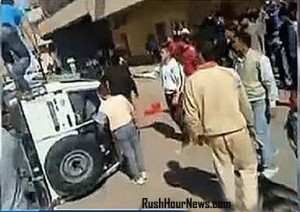 Rising clashes involving Syrian goverment forces as well as anti-government demonstrators claimed fifteen individuals Wednesday in the town of Daraa, witnesses and also rights activists stated. Syrian national television claimed the government fired the governor of Daraa province, a flash-point of anti-government protests.
There was clearly no break down on the deaths. As outlined by activists and witnesses, 7 people died right after dawn prayers close to al Omari mosque as soon as goverment staff tried to storm the place exactly where protesters took locations to request government reforms, an opposition spokesman explained.
Later, around 3,000 protesters coming from neighboring towns gathered outside Daraa and also started a fight with an army unit known for its devotion to President Bashar al-Assad, activists and also witnesses claimed. The army unit is lead by a member of the family, Maher al-Assad, opposition said.
8 more people was killed in the newer fights, sending the actual death toll Wednesday to 15, according to the sources. Total, at least twenty one individuals have died in unrest in the city ever since Friday.
Army tanks are positioned in the town, including near al Omari mosque, it was stated by rebels. Cellular as well as regular telephone service coming from Daraa has been shut down..
---