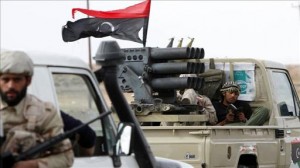 Spokesperson Moussa Ibrahim explained troops loyal to Col Muammar Gaddafi would not withdraw from the rebel-held towns they have been besieging.
He also condemned current coalition air strikes as "a new crime against humankind" and stated there had been civilian casualties in a single attack on Thursday.
Nato will be looking into an investigation which seven civilians had been killed nearby Brega.
The account, from a medical doctor in Adjabiya, could not be independently approved.
'Crime against humanity'
On Friday, the leader of the rebel Transitional National Council, Abdul Jalil Ibrahim, talked about what sort of truce would possibly happen when conference UN special envoy Abdelilah al-Khatib in the eastern city of Benghazi.
"We have no doubt with a ceasefire but on problem which Libyans in western cities have full flexibility in showing their opinions and that the troops that are besieging the cities pull away," he