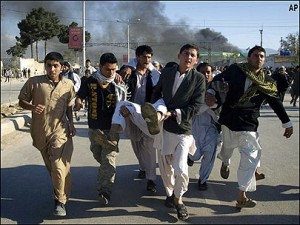 The United Nations says the death toll in an attack on its compound in the northern Afghan city of Mazar-i-Sharif could be as high as 20. The figure includes international and local staff, U.N. guards and Nepalese Gurkha soldiers hired to protect the compound.
Friday's killings happened as demonstrators stormed a UN office in northern Afghanistan, opening fire on guards and setting fires inside the compound.
The protesters were angry with a reported burning of the Muslim holy book at a small church in the US state of Florida.
The protest began peacefully when several hundred demonstrators gathered outside the mission's compound to denounce the Quran's destruction.
It turned violent when some protesters grabbed weapons from the UN guards and opened fire on the police, then stormed the building.
Ahmad Gul, Protester, said, "We had a peaceful protest. We went to the compound and tried to disarm the guards by taking their guns away, so there would be no violence. But they still fired on us and wounded our people."
Several hundred people also protested the reported Quran burning at several sites in Herat, a city in western Afghanistan.
And in the capital, Kabul, about 100 people gathered near the US Embassy, waving banners chanting ant-US slogans.