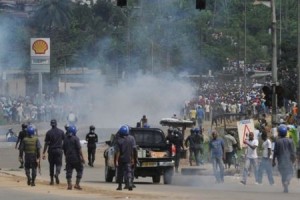 Nairobi – At least 800 people have died in a western Ivory Coast city in the past seven days, the International Committee of the Red Cross (ICRC) said as rebel troops laid siege to President Laurent Gbagbo's forces in Abidjan.
The BBC, citing an ICRC spokesperson, said the casualties came during inter-community fighting in the town of Duekoue, which forces loyal to would-be president Alassane Ouattara seized earlier this week.
Pro-Ouattara forces topped a lightning assault through the country when they entered Abidjan Thursday and surrounded the presidential palace all day Friday.
Heavy fighting was reported, although most of Gbagbo's troops have deserted, military sources said.
Gbagbo's whereabouts were unknown overnight Friday, although the French envoy to Ivory Coast said he believed the embattled president was still in the palace