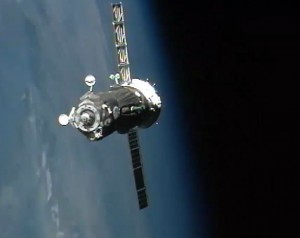 Russian spaceship displaying the name of history's most well-known astronaut arrived at the International Space Station tonite (April 6) to supply 3 new crewmembers to the orbiting research laboratory.
The Soyuz TMA-21 – called "Gagarin" right after Yuri Gagarin, who actually had become the first person in space on April 12, 1961 – easily docked together with the station's Poisk module at 7:09 p.m. EDT today (11:09 p.m. GMT). The spaceship had sent out out of Baikonur Cosmodrome in Kazakhstan on April 4, blasting off from the same pad used in Gagarin's famous journey nearly 50 years back.
"Contact and capture – docking confirmed," a NASA professional proclaimed as the "Gagarin" sidled up to the actual orbiting research laboratory.
The "Gagarin" has been transporting two astronauts and another NASA cosmonaut, who will tonite join the 3 crew members already aboard the station, rounding from orbiting lab's Expedition 27.
The 3 newbies – NASA's Ron Garan and Russians Alexander Samokutyaev and Andrey Borisenko – will also stay on as part of the up coming station voyage, Expedition 28.
Garan as well as Samokutyaev will be flight engineers on both expeditions. Borisenko will assist as a trip engineer on Expedition 27, then transition to the position of Expedition 28 leader