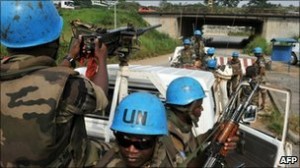 Late on Wednesday, French helicopters moved in to evacuate the Japanese ambassador, Okamura Yoshifumi, and his aides after his home near the presidential residence was invaded by unidentified gunmen.
They were taken to safety in a French military camp at Port-Bouet, south of Abidjan, the French embassy said.
The French said they had acted after a request from Japan and the UN.
During the operation, French forces exchanged fire with fighters defending Mr Gbagbo's residence.
Speaking before his rescue, Mr Yoshifumi told AFP news agency that a group of "mercenaries" had occupied his residence for five hours.
While he and others sheltered in a safe room, the gunmen used his residence as a firing-point to launch rockets and fire machine-guns and cannon, he said.
He said he had later found that four people employed at the residence, security guards and a gardener, had "vanished", and there was "a lot of blood" in the house.
It was not clear if the gunmen were part of the forces defending the nearby presidential residence or the attacking forces loyal to Mr Ouattara.