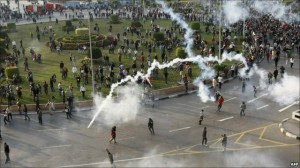 In Deraa, where demonstrations first broke out in March, residents said security forces fired on thousands of protesters, who set fire to a building belonging to the ruling Baath Party and smashed a statue of the president's brother, Basil.
A volunteer at Deraa hospital and an activist said 22 people were killed and 120 wounded. It took the death toll in three weeks of protests to more than 90.
State television said armed groups killed 19 policemen and wounded 75 in Deraa.