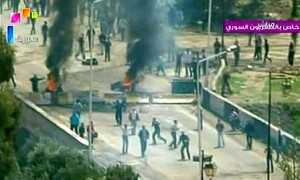 Protests that excalated in Syria more than twenty days ago have been going stronger steadily every day.
The security attack on Syria's coastal region tightened yesterday, with checkpoints blocking away entry to the city of Baniyas and its outlying areas and a chaotic raid by state security forces on the close by community of Bayda.
On Sunday, four demonstrators were killed by state security forces during prodemocracy demonstrations in Baniyas, a harbour town known for orchards and its large oil refinery. On Monday, an eyewitness told Al-Arabiya news channel that shooting continued to be noticed in the city's Al-Nabe'a district, in which the strongest clashes between protesters and security forces took place Sunday.
The community of Bayda was being penalized for offering refuge to individuals fleeing Baniyas, and since residents were rumored for preparing a demonstration, said a Syrian human rights advocate. He was quoted saying security forces had raided residences and also taken out males and females into the town square, exactly where these people were "collectively beaten'' by security agent