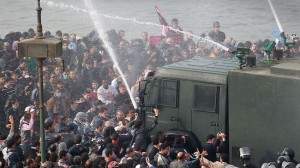 Yemeni police have clashed with anti-government protesters demanding political reform and the resignation of President Ali Abdullah Saleh in the third straight day of anti-government protests.
Several thousand protesters, many of them university students, tried to reach the central square in the capital of Sanaa on Sunday, but were pushed back by police using clubs.
Witnesses say several protesters were injured and 23 were detained by police.
The ouster of Egyptian President Hosni Mubarak after an 18-day uprising raised questions about the stability of Yemen and other Western-allied governments in the region