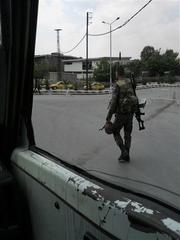 Gunfire and shelling rattled and shook a town in central Syria on Sunday and also murdered a 12-year-old boy, as President Bashar Assad's autocratic regime broadened its military attack on a seven-week-old rebellion, activists stated.
The actual circumstances of the kid's death within the town of Homs had been cloudy. Like several other problem areas, the authorities has answered protests right now there by sending in tanks and troops to seal off them back and cutting phone service to abandon it more separated.
The continued crackdown shows that Assad's regime is decided to end the rebellion by pressure and intimidation, regardless of rapidly escalating global outrage and a fatality cost which has capped 580 civilians since unrest started in mid-March, based on rights organizations.
The government and some observers additionally declare around 100 troopers are already murdered.
The armed forces and security troops completed arrest sweeps and posted snipers on roofs in flashpoints across the country Sunday, including Homs, the coastal town of Banias and also the southern city of Daraa, where the rebellion began, activists said.
Hundreds were arrested in Banias, including a 10-year-old boy in what appeared to be a move designed to penalize the child's mother and father, stated Rami Abdul-Rahman, director of the Syrian Observatory for Human Rights