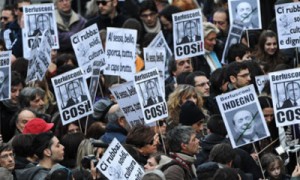 Italian women have held protests nationwide and abroad against embattled Prime Minister Silvio Berlusconi.
Thousands of protesters marched in more than 60 towns and cities nationwide.
Some women carried banners reading "Italy is not a brothel", and said Mr Berlusconi had demeaned women with his recent sex scandals.
The premier denies attending sex parties and consorting with prostitutes, labelling the claims "disgusting" and politically motivated.
Smaller protests were also held on Sunday in Brussels, Madrid, Lisbon, Paris, Lyon and Toulouse in France, and as far afield as Tokyo