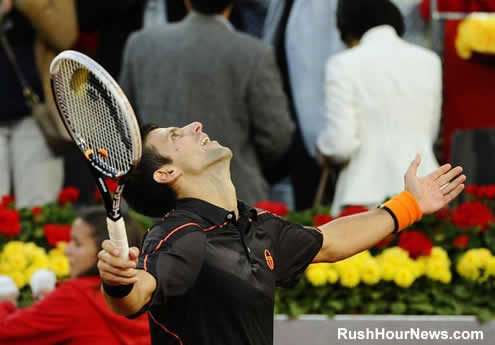 Rafael Nadal faces a fight to keep onto his world number 1 ranking following Novak Djokovic lengthy his victory streak to thirty four matches that has a 7-5, 6-4 win over the Spaniard at the Madrid Masters.
Nadal needed to digest his very first loss on clay in nearly two years, a run of 37 straight wins extending back in the French Open 4th round in 2009 when he lost to Robin Soderling.
At this moment Nadal has this week's Rome Masters, Roland Garros and Wimbledon champion's points to defend.
With Djokovic hardly registering during the period a year ago (two quarter-finals and a Wimbledon semi-final), the Serb is well-placed to seize the leading standing and also accomplish his life long tennis dream.
"I walked onto the court thinking I could win," said Djokovic, now holder of half a dozen titles this year.
"I'm very happy with the way I played out. Defeating Nadal is the greatest challenge on clay, I'm so glad I was able to do it."
Djokovic insisted that he is not getting too side-tracked by the search for the world number 1 position.
"If I continue to win, I will get closer to it, however I'm trying never to consider it as I have only started off my claycourt season," he said.