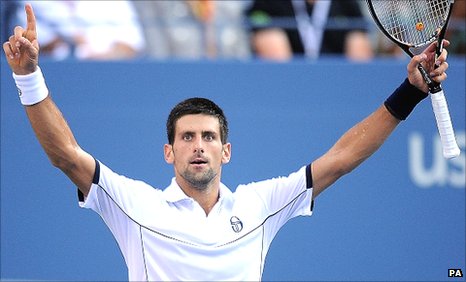 Novak Djokovic strengthened his place a top men's tennis with a four-set win against Rafael Nadal in the U.S. Open final, becoming the sixth man to win three Grand Slam championships in a single year.
Novak Djokovic confirmed his status as the world's best player with a stunning victory over defending champion Rafael Nadal to claim his lift US Open title.
Djokovic, a 24-year-old Serb and the top seed, improved his season record to 64-2 with a 6-2, 6-4, 6-7 (3-7), 6-1 victory against Nadal, the second seed from Spain, at the National Tennis Center in New York. It was a rematch of the 2010 U.S. Open final won by Nadal.
Djokovic also beat Nadal, 25, in the Wimbledon final in July and won the Australian Open in January. The only one of tennis' four major tournaments he failed to capture this year was the French Open, where he lost to Roger Federer in the semifinals.
"Well, it's obvious that this is the best year of my career, by far," Djokovic said in a news conference after his semifinal win two days ago against Federer. "The confidence level that is very high at this moment for me helps me to get into these big matches and go for the shots that I wasn't going for in the past couple years."
Djokovic won 2.3 million ($1.8 million + $500000 bounus as a runner up) for the championship, while Nadal got $900,000.
Only five other men have won three majors in a year since tennis's Open era began in 1968. Nadal did it last year to join Federer of Switzerland, Mats Wilander of Sweden, Jimmy Connors of the U.S. and Rod Laver of Australia, who swept all four Grand Slam titles in 1969.
Djokovic reached the final by recovering from a two-set deficit and fighting off two match points to beat Federer, a five-time champion who was seeded No. 3