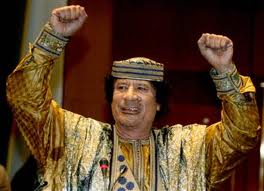 Most wanted Libyan leader Moammar Gadhafi has been captured in his town of Sirte, the Reuters news agency reported Thursday, citing a National Transitional Council official.
"He's captured. He's wounded in both legs.…He's been taken away by ambulance," Abdel Majid told Reuters.
The media agency also stated, that Gadhafi had died of his wounds, based on an NTC source, .
There were conflicting reports on the details of the capture. One indicated he was captured in a convoy trying to flee Sirte, while another report said he was captured in the city while hiding in a hole.
Reports of Gadhafi's capture came as Sirte, the last pocket of resistance by fighters loyal to him, fell to revolutionary forces.
Following reports of the deposed leader's capture, NTC fighters rejoiced in the streets of Sirte, cheering and stamping on the flag used by the Gadhafi regime.
The U.S. State Department and NATO could not immediately confirm the reports of Gadhafi's capture.