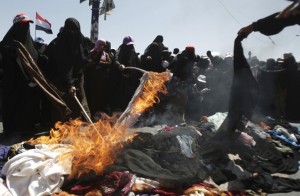 Women in Sanaa, Yemen, have taken an action and burned their veils Wednesday to protest Leader Ali Abdullah Saleh's attack on anti-government protesters, witnesses mentioned.
thousands of women joined inside the capital, moving ads reading through "Saleh the butchers is killing as well as is satisfied by using itInch and "Women have no value inside the eyes in Ali Saleh," CNN reported.
The women collected up veils and jewellery and hang up them ablaze — a provocative action inside the conservative Islamic nation where women hide their faces and physiques with veils.
CNN mentioned it absolutely was the first time in the last few days of Yemen's uprising this type of event has happened.
Greater than 60 women were attacked in October with the government, protester Ruqaiah Nasser mentioned, adding that government troops also raided houses and destroyed children.